Many times I get questions through the form on my website such as, do you work with pure silver and gold? And many times I am tempted to answer, Of ​​course not! But then nobody would buy me :-) And, actually, when my future clients ask me if I use pure silver, you are asking me if I am a jeweler. or I'm going to pull the wool...
So to that question I am sending you a long answer explaining the differences between silver or pure gold and the different alloys with which we work in jewelry, in my case sterling silver and 18K gold. Since nobody is born learned, and it seems very good that you ask me those questions, and if you have reached this post perhaps you also have the doubt, I take advantage and explain here the differences between pure silver, sterling silver, 925 silver or German silver.
Pure gold and silver exist in nature, but are not used in jewelry because they are too soft and the jewelry would be damaged too easily. For this reason, in jewelry we work with "sterling silver" and "18K gold." In this post I explain the differences between the different silver alloys.
In the image that heads this post, you can see various future treasures in sterling silver, on my jewelry table, in the workshop of The MeriTomasa's Treasures Factory. They are my Sant Jordi Roses, just before polishing the silver, when the metal offers an off-white color, similar to plaster.
What is "pure silver" or "fine silver"?
Pure silver, which is also called fine silver, is a soft, highly malleable precious metal that is easily damaged. It is too soft both for work in the workshop and for use in jewelery or goldsmiths. With friction it can wear more, with blows it suffers and deforms very easily. That is why it is combined with other metals to achieve a more durable product. The most popular alloy is sterling silver, which is made up of 92.5% silver and 7.5% copper.
The purity of precious metals is measured in thousandths, which indicates the amount of pure precious metal that an alloy has if we divided it into 1000 parts. Fine, or pure silver, has 999.9 thousandths of silver: any precious metal always contains a small amount of impurities because they are materials of nature. That is why we consider "pure" any precious metal that has at least 999.9 thousandths of every 1,000 of that metal. Sterling silver, on the other hand, is obtained by mixing fine silver with another metal, usually electrolytic copper. That other metal with which we allocate a precious metal is called "the league".
What is "sterling silver" or "ster" or "925 silver"?
Sterling silver and 18K gold are alloys. That is, mixtures of silver and gold with other metals. This makes these resulting metals stronger and more resistant, both for work in the workshop and to wear them later as jewelery. We can make these alloys by the jewelers themselves or buy sterling silver or 18K gold (yellow, white or rose) directly from a wholesaler.
"Sterling silver" is also called "ster" or "925 silver". Is the same! It is an alloy of silver and copper. That is, out of every 1000 grams, you have 925 grams of silver and the rest of another metal, usually copper. It may also be called "ster", "sterling silver" or".925".
And why is it called "sterling silver"? The name comes from Old English, because the ratio of 925 silver to 75 copper was used for the first time in small coins in England. They were coins minted in silver and with a star printed on each side, and hence "sterling silver" or "ster".

Custom Name Necklace: In MeriTomasa you can "draw" yours with your own handwriting or your daughter's handwriting. Just write it on a piece of paper and send me a photo. With shipments all over the world. From € 84

Sant Jordi Roses Earrings: one of the final pieces once polished, partly oxidized, from the treasures of the image above. Contrasting between polished and darkened silver finish to create a volume effect.
From € 44

Celtic Wedding Rings: with the inscription "Mo Anam Cara" and the symbol of the triquetra. Polished exterior finish and darkened backgrounds, to enhance the inscription on the background of each wedding ring.
Unique piece
Silver is normally worked at 925 thousandths and can actually be alloyed with many metals, such as zinc or tin. But tradition and the years of testing one and the other league have led us to the fact that the most common alloy of silver is with copper, because it improves resistance and durability and hardly affects the color of pure silver. It also does not affect the value of the metal: the copper part is very small and the price of a silver jewel, in reality, depends little on the price of the metal and a lot on the elaboration work, the skill of the jeweler or the complexity of the design of the jewel.
One of the problems with silver alloys is that it oxidizes faster. But this largely depends on the use and care we give to our jewelry, and also on the skin of each person. There are people who perspire more or who have a more acid sweat, which can rust their jewelry quickly. And there are people who perspire less, or with less acidic sweat, who will keep their silver jewelry with hardly any oxidation. The use of cosmetics or cleaning products can also accelerate oxidation.
Many times we talk about the oxidation of silver as a bad thing. But it is not always. In fact, silver is usually worked in a glossy, matte or darkened finish. And precisely the "darkened" finish is a "rusty" finish. Oxidized silver is a darker silver. And that allows finishes of your treasures with greater ancestry, or also allows to enhance volume effects by playing with the contrast of polished silver and darkened silver.
Therefore, whenever you wear sterling silver jewelery, you are actually wearing jewelery with a small proportion of copper.
What is "second-law silver" or "800 silver"?
Second-law silver, or 800 silver, is an alloy with less silver: for every 1,000 thousandths, it contains 800 thousandths of silver and 200 thousandths of another metal, generally also copper. I do not use it: it is of lower quality than sterling silver and the difference in price of the metal is very small.
But above all it is a cultural issue: in Latin countries, such as Spain, France, Italy..., but also all of Latin America, Catholic culture has left a more "vain" view, which values ​​the purity and luxury of higher alloys of precious metals, such as sterling silver or 18K gold. On the other hand, in the Anglo-Saxon or Germanic countries, such as Germany, the United Kingdom, the United States... the Protestant culture has left a more "austere" view, which also values ​​jewels made of more modest and humble alloys of precious metals, like second-law silver or 14K gold.
What is "German silver"?
"German silver" is not really silver. It's alpaca. It is also called "nickel silver", "maillechort", "argentan", "new silver", "nickel brass" or "albata". It is an alloy made up of zinc, copper and nickel, without any silver, but with a color and shine similar to silver. In this case, yes: if you want to buy a silver jewel and they sell you "German silver", this is pull the wool.
In short...
In short, If you ask me if I use "pure silver" to make the jewels that come out of The MeriTomasa's Treasures Factory, I'll say no. I use "sterling silver", which is the most standard and highest quality silver alloy used in jewelry to make silver treasures. It could have started there, and you would have saved this long post, but living among precious metals and future treasures has a lot of magic and gives to put together these few lines and many more :-)
MeriTomasa offers you jewelry collections with artisan manufacture and exclusive design in sterling silver, for sale online and with international shipments!
My MeriTomasa Collections are sterling silver limited series designed and modeled in my Manresa workshop, near Barcelona, with exclusive designs and handcrafted manufacturing.
Each collection offers you a complete range of rings, earrings, necklaces, bracelets, keychains, pins or hair sticks. They are sold online on this website, with exclusive MeriTomasa packaging included + shipping worldwide with DHL!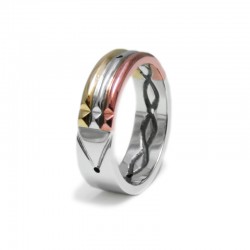 Atlantis Rings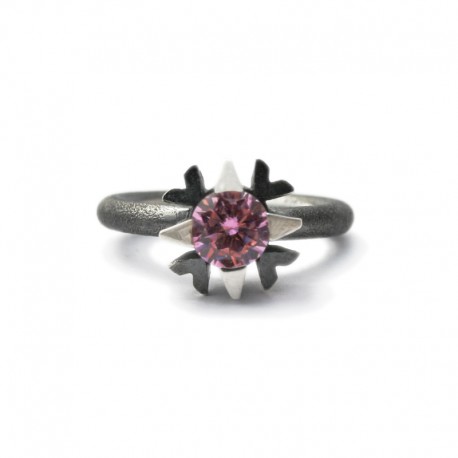 Illusions

Rod of Asclepius

Snowflake

Name Necklace

Tricolor

Pinch of Love

Band-Aids

Minimal

Muajaja

Premium Illusions

Wisdom teeth

Sant Jordi Roses

Catalan Estelada

Seeds
Atlantis Ring Collection at The MeriTomasa's Treasures Factory
The main difference of my Atlantis Rings with respect to the serial productions that you can find on other websites is the quality and craftsmanship. I only work with noble metals (18K gold, sterling silver, and electrolytic copper). And I make each piece by hand. The result is a unique, quality ring. Stronger and more durable.
The Atlantis rings from The MeriTomasa's Treasures Factory share a same design, based on the golden ratio. The only thing that changes is the precious metal or metals with which I model each ring. This change is not trivial: it implies substantial differences in price since a gram of gold is much more expensive than a gram of silver. It also implies substantial differences depending on what you want to use your ring for.
You can buy online on my website:

Atlantis Ring in Silver: the classic design of the Atlantis Ring, but made only in sterling silver: an ideal solution to have your Atlantis Ring at a much more accessible cost.
€ 95

Atlantis Ring in Gold, Silver and Copper: the purest version, for fans of personal growth, Reiki or esotericism or of the Atlantis Ring as a talisman or channeler of particular energies.
From € 225

Atlantis Ring in Gold, Silver and Rose Gold: Do you like the three metal Atlantean but are you worried that the copper could rust? The solution: swap copper for rose gold.
From € 335

Atlantis Ring in Gold and Silver: Ideal as a wedding band for lovers of good energies: best-selling model as wedding rings. Between the jewel and the talisman.
From € 445

Atlantis Ring in Rose Gold and Silver: identical to the Atlantis in gold and silver. Just change the color of the gold. Ideal weddings: yellow for him, rose for her. Or rose for them :-)
From € 445

Atlantis Ring in Gold: fans of the most exclusive jewelery: energetic, durable and allergy-proof. Wedding rings, jewel to show off or personal energy channeler.
From € 995

Atlantis Ring in Rose Gold: if the yellow gold version is Premium Imperator, this is the version for forest fairies, due to the reddish and Venusian charm of rose gold.
From € 995

Atlantis Ring in Three Golds: Solid 18kt gold. The difference is that the Luxor wave bands are made of yellow, white and rose gold. The more exclusive version of the Atlantis Ring.
From € 1.995

Atlantis Ring in Copper: Only for very very fans of copper: I do not recommend it because the oxidation of the copper can darken the ring and leave your skin with a green tint.
€ 95

Atlantis Wedding Rings: for couples full of good energies: turn your wedding bands into two Atlantis talismans to guide your personal growth and that of your partner.
From € 190
Custom Jewelry
At The MeriTomasa's Treasures Factory in Manresa (Barcelona) I combine technique and design to create custom jewelry tailor-made for all tastes and pockets. Personalized jewelry where you decide the meaning, design, materials or finishes to fill each treasure with something much more valuable than the splendor of metal: you!

Custom Engagement Rings

Custom Wedding Rings

Tailor-made Earrings

Personalised Bracelets

Jewelry for babies and their parents

Personalised Jewelry Sets

View all custom jewelry...
¿And you, you have already written yoru Letter to The MeriTomasa's Treasures Factory?