Santa Claus, the Catalan Cagatió and their Majesties the Magi are very magical, but they do not make impossible. This is what I have to tell each year from certain dates, when urgent requests come to me through all the magical beings of Christmas and I no longer have days left on the calendar. That's why I love the clients who prepare their letter to the Three Wise Men with a little foresight and I already have all the chimneys of The MeriTomasa's Treasures Factory at full capacity, emitting magical smoke, the kind that only "pollutes" the spirit of the Christmas ;-)
And you? You haven't written your letter yet and this year you want to include a special treasure? Here are some ideas courtesy of my more forward-thinking clients:
My magic formula: local commerce with online sales and shipments via Santa Claus and the magical beings of Christmas to the whole world. Hohoho!
Exclusive design and artisan manufacture, but with online sales and shipments to almost the whole world. It is my MeriTomasa formula, a small jewelry workshop that is committed to showing that the traditional is not at odds with the modern and that there is life beyond Amazon. If you want to bet on local commerce but at the same time be able to talk to me by email and comfortably receive your treasures with Santa Claus and other magical beings of Christmas, such as DHL, MeriTomasa is your personalized jewelry workshop.
Collections and personalized jewelry with name, with artisan manufacture and exclusive design in sterling silver and 18kt gold!
My MeriTomasa Collections are sterling silver limited series designed and modeled in my Manresa workshop, near Barcelona, with exclusive designs and handcrafted manufacturing.
Each collection offers you a complete range of rings, earrings, necklaces, bracelets, keychains, pins or hair sticks. They are sold online on this website, with exclusive MeriTomasa packaging included + shipping worldwide with DHL!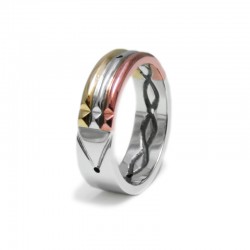 Atlantis Rings

Panot Barcelona

Rod of Asclepius

Chakana

Heart

Seal of Solomon

Custom name necklace

Necklace with two or three names

Name Necklace with Gold Bath

Infinity name mecklace

Shoe plates

Custom name bracelet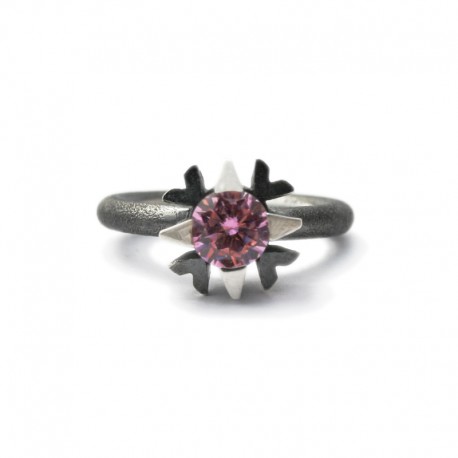 Illusions

Snowflake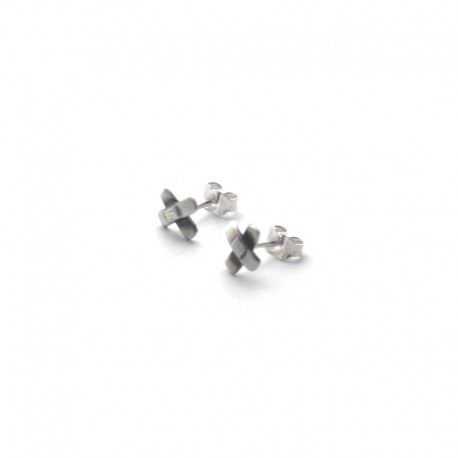 Band-Aids

Minimal

Sant Jordi Roses

Catalan Estelada

Seeds

Custom thimble

Corporate keychain with logo
Best sellers: Atlantis Rings
The Atlantean ring models from The MeriTomasa's Treasures Factory share a same design, based on the golden ratio. The only thing that changes is the precious metal or metals with which I model each ring. This change is not trivial: it implies substantial differences in price since a gram of gold is much more expensive than a gram of silver. It also implies substantial differences depending on what you want to use your ring for.
You can buy online on my website:

Atlantis Ring in Silver: the classic design of the Atlantis Ring, made only in sterling silver: your Atlantis Ring at a much more accessible cost.
€ 95

Atlantis Ring in Gold, Silver and Copper: the purest version: fans of personal growth, Reiki or esotericism or of the Ring as a talisman or energies channeler.
From € 225

Atlantis Ring in Gold, Silver and Rose Gold: Do you like the three metal Atlantean but are you worried that the copper could rust? The solution: swap copper for rose gold.
From € 335

Atlantis Ring in Gold and Silver: Ideal as a wedding band for lovers of good energies: best-selling model as wedding rings. Between the jewel and the talisman.
From € 445

Atlantis Ring in Rose Gold and Silver: identical to the Atlantis in gold and silver. Just change the gold color. Ideal weddings: yellow for him, rose for her. Or rose for them :-)
From € 445

Atlantis Ring in Gold: fans of the most exclusive jewelery: energetic, durable and allergy-proof. Wedding rings, jewel to show off or personal energy channeler.
From € 995

Atlantis Ring in Rose Gold: if the yellow gold version is Premium Imperator, this is the version for forest fairies, due to the reddish and Venusian charm of rose gold.
From € 995

Atlantis Ring in Three Golds: Solid 18kt gold. The difference is that the Luxor wave bands are made of yellow, white and rose gold. The more exclusive version of the Atlantis Ring.
From € 1.095

Atlantis Ring in Copper: Only for very very fans of copper: I do not recommend it because the oxidation of the copper can darken the ring and leave your skin with a green tint.
€ 95

Atlantis Wedding Rings: for couples full of good energies: turn your wedding bands into two Atlantis talismans to guide your personal growth and that of your partner.
From € 190
MeriTomasa, certified by Santa Claus, the Cagatió and Caspar, Melchior and Balthazar
In addition, thanks to the certification by Santa Claus, the Cagatió and Caspar, Melchior and Balthazar with the Christmas Magic Page quality seal, now you can write your letters directly to all those magical beings through my contact form. A copy comes to them (which validate if you have made merits to obtain the desired gift) and another to me (as soon as I receive the ok I get to work).
And you, have you already written your letter to the Magi?