How does it work?
As soon as I receive your order, I send you 3 typographic options for you to choose your nameplate design.
Too easy! To place your order, you just have to tell me the name you want to appear on your personalized shoe plates (please include the check marks if applicable). You can put the same name on both plates or put two different names.
After receiving the payment, I send you 3 sketches by email of how your name plates would look in different fonts. You just have to choose the one you like the most and I will manufacture your plates in approximately 5 working days. You will receive them at the postal address you have indicated in between 1 and 3 more days.
Another option, if you like the idea, is to "write" your personalized shoe plates. For example, if it is for your son, ask him to write his name on a sheet of paper, take a photo and attach it to the purchase form. I will faithfully reproduce that custom typeface in metal.
Manufacturing times are approximate: if you're in a hurry, tell me and I'll try to speed it up.
You only have to take into account two details:
the shoe where you put your plates must have a space for the laces of 30mm x 9mm so that the plate fits (most shoes have that space).
the ends of the laces must make less than 2.5 to pass through the hole in the plate (most laces also comply with this rule).
Write your name on a piece of paper, or ask your children to write it down. Send me a photo and I will turn it into a custom name sneaker plate.
You can also "write" your own font
And if you want, you can also be the one to draw the letters for me, or ask your wife, or your son, to write their name. This is how unique shoe plates come out :-)
It's very easy: you sneakily ask him to write his name on a piece of paper. You take a photo and send it to me through the purchase form. I will turn those strokes into precious metal.
Imagination to power: I have also received orders from a friend who has written the name of the future bearer of the name plates, for example to make a communion gift or to celebrate a school gang birthday.
And you can also combine this idea with other jewelry, such as making name plates, a name bracelet and a name necklace from the same design.
It is one of my favorite slogans at The MeriTomasa's Treasures Factory: you design your jewel. I am your jewelry hands.
A great idea to surprise and leave someone very special speechless right now that they think you are another daddy of those who only know how to give away bottles of cologne and sports brand T-shirts...
Personalized name plates, 100% handmade and made to measure.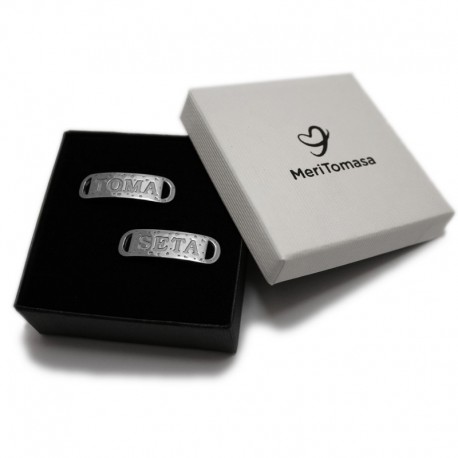 Plates with personalized names, with exclusive MeriTomasa packaging included.
Personalized name plates are a great gift idea:
For your girlfriend or your wife: just now that she has given up and is only waiting for that "another bottle of cologne" from you, surprise her and leave her speechless and astonished with a gift that is not expected.
For runners: if your husband or wife are fans of running... Gift in sight!!
For the queens and kings of the house, when their birthday approaches or at Christmas or Wise Men. In addition, you can take advantage of the pair and, since you can put a different name on each plate, give a plate for each child, so that you get two gifts for the price of one ;-)
For school friends: an ideal gift to make in a group at your next birthday party.
And for colleagues who change jobs or meet round numbers, for family or friends on a special occasion ... Personalized name plates are a gift exclusive and a memory of a special moment for a lifetime, and they come out for a more than affordable price, especially if you give as a group.
About The MeriTomasa's Treasures Factory
The MeriTomasa's Treasures Factory is specialized in custom jewelery tailored to suit all tastes and budgets: wedding rings, headbands, earrings, pendants, brooches, bracelets, rings, tiaras... My value proposition is to create products where it is you who decides the shape, materials, finishes... That you can be part of the manufacturing process and thus begin to fill the object with something more sensitive than the lavishness that metal brings. It is a more intimate, romantic, exclusive and quality work.
And if you like it but would prefer it with some changes... please tell me and we will talk about it :)