Surely you are familiar with the "18K gold" (or 18-karat or 18 carat), but... and what is a K, karat or carat? Is a carat a kilo as they say in Mexico, Colombia, Costa Rica, Peru, Bolivia and some other countries in Latin America? Is a carat a kilo of gold and is it said that because it weighs much more than a kilo of silver or any other metal? Putting the one and the other together, that's why it is said "who has a friend, has a carat"?
Error! All of the above are incorrect :-)
A carat or karat (abbreviated K or kt) is a measure of the purity of a precious metal. It is not a measure of weight: it is a measure of proportion. It comes from the Middle Ages and was used in Europe until the invention of the decimal metric system, but it has been maintained until today for the precious metal par excellence: gold.
A carat is an ancient measurement, prior to the invention of the decimal metric system, which consists of dividing a precious metal into 24 parts and indicating how many of them are of that metal and how many others correspond to other metals with which an alloy has been made. For example, 18 karat gold has 18 parts of gold and 6 parts of other metals, such as silver or copper.
A carat is one twenty-fourth (1/24) of the total mass of the alloy that makes up a precious metal. That is, if we divide a piece of gold into 24 parts, how many of them are pure gold and how many others are other metals. For example, if a jewel is made of 18 karat gold, it means its alloy is made of 18/24 parts of gold. In other words: it is 75% pure, or 750 thousandths of each gram. On the other hand, a 24 carat jewel is made of 24/24 parts of gold and therefore it is pure gold (although "pure" gold does not exist 100%, and that is why we speak of 999.9 thousandths per gram when we bought a gold bar).
And why are alloys made instead of pure gold jewelry?
Pure gold and silver exist in nature, but are not used in jewelry because they are too soft and the jewelry would be easily damaged. For this reason, in jewelry we work with "sterling silver" and "18 karat gold".
18-karat gold or sterling silver are alloys: mixtures of gold or silver with other metals. And why do we make alloys? So that the resulting metals are stronger and more resistant, both for work in the workshop and to wear them later as jewelery. In the case of silver, I will tell you in detail in another post: What is the difference between fine silver, sterling silver, ster, 925 silver and German silver? And with 18 karat gold it is exactly the same.
In jewelry you do not work with pure gold. We always put a dot of other metals to harden it and to change its color or not. In the case of 18K yellow gold, it has 750 thousandths of pure gold, 125 thousandths of pure silver and 125 thousandths of pure copper per gram.
What is "pure gold"?
Pure gold is a soft yellow precious metal. Its symbol is Au (from the Latin aurum, which means "bright dawn"). It is one of the most used precious metals in jewelry because of its composition and because it is very difficult to find. It has three great advantages. The first, its beautiful bright yellow color, which is related in ancient cultures with the Sun, divinity or the active energy of nature. The second, that it does not react with most chemical products: that is, it is very difficult for it to oxidize. The third, that it is also very difficult to generate allergies, unlike other precious metals such as silver.
If you buy gold for investment, they will probably sell you a 999.9 thousandth bar. That means that of each gram, 999.9 thousandths are pure gold (there is always some impurity: 100% purity does not exist). Speaking in karat rather than thousandths, pure gold is 24kt gold. But that gold is not suitable for working in jewelery since it is too soft a metal. With friction it can wear out, and with blows it suffers and deforms too much. For this reason, in jewelry we allocate it with other metals, such as silver or copper, and from there we work with gold of different carats.
We work with gold of different karats ... to begin with depending on whether we use the gold for jewelry or for other things. The gold used by dentists is not the same as the gold used by jewelers and goldsmiths. For example, gold teeth are usually 22 or 23 carats, because being softer they adapt better to the blows we make when chewing. They are more comfortable and durable. They can wear out, but not break due to their hardness. On the other hand, in jewelry we need to work with a harder metal, and, therefore, with less carats.
What is "18K gold" and "14K gold" and "9K gold"?
And how many karats is the gold we work with in jewelry? It depends on "the law". That is, of the regulations of each country or each culture. For example, in Germany work with 9K (375 thousandths) and 14K (585 thousandths), because it is a more austere and less "posture" culture. In Spain, on the other hand, they work with 18K gold: in each gram there must be 750 thousandths of pure gold. In general, in Anglo-Saxon countries or with a Protestant culture, cheaper and austere alloys are used, while in countries with a Catholic culture, more expensive and exclusive alloys, such as 18K gold, are more valued.
18K gold has 18/24 parts of gold and 6/24 parts of other metals. That is "the law" (or the usual rule) in countries like Spain. But it is not the only option: it depends on each country and each culture. In Anglo-Saxon or Protestant countries, it is also common to see 9K or 14K jewelry. At The MeriTomasa's Treasures Factory I follow Spanish law and therefore my gold jewelry is 18K.
That is "the law", or purity, of a gold jewel. It consists of a standard to inform the customer of the purity of the metal, which has a lot to do with its price. We can work with other laws (9K, 14K...) as long as we report it clearly. At The MeriTomasa's Treasures Factory I follow Spanish law and my gold jewelry is 18K.
And does that purity apply the same to yellow gold, rose gold and white gold? I'll tell you all the details in my next post...
MeriTomasa offers you collections with artisan manufacture and exclusive design in gold (yellow, rose or white) and sterling silver, for sale online and with international shipments!
My MeriTomasa Collections are sterling silver limited series designed and modeled in my Manresa workshop, near Barcelona, with exclusive designs and handcrafted manufacturing.
Each collection offers you a complete range of rings, earrings, necklaces, bracelets, keychains, pins or hair sticks. They are sold online on this website, with exclusive MeriTomasa packaging included + shipping worldwide with DHL!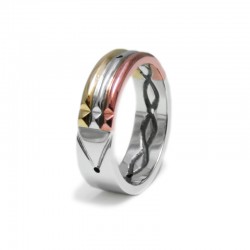 Atlantis Rings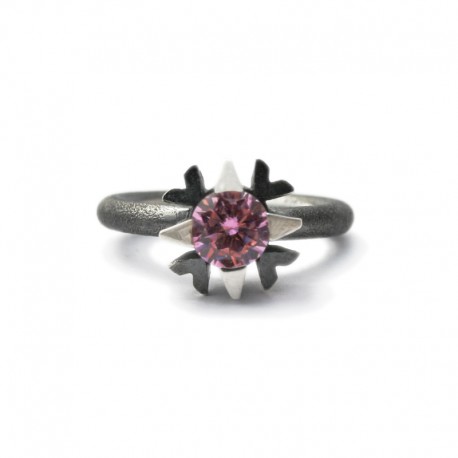 Illusions

Rod of Asclepius

Snowflake

Name Necklace

Tricolor

Pinch of Love

Band-Aids

Minimal

Muajaja

Premium Illusions

Wisdom teeth

Sant Jordi Roses

Catalan Estelada

Seeds
Custom Jewelry
At The MeriTomasa's Treasures Factory in Manresa (Barcelona) I combine technique and design to create custom jewelry tailor-made for all tastes and pockets. Personalized jewelry where you decide the meaning, design, materials or finishes to fill each treasure with something much more valuable than the splendor of metal: you!

Custom Engagement Rings

Custom Wedding Rings

Tailor-made Earrings

Personalised Bracelets

Jewelry for babies and their parents

Personalised Jewelry Sets

View all custom jewelry...
What a longer post! Thanks for reaching the last line, honey!